Aurora Plastics Corporation seized the burgeoning hobby market in 1950 and captivated model makers for decades to follow.
Company
Founded 1950 as Aurora Plastics Corporation in Brooklyn, New York by Joseph E. Giammarino, Gennaro Giammarino, Sr., and Abe Shikes.
The company began as a contract manufacturer of injection-moulded plastics.
John Cuomo joined the ownership team in 1952.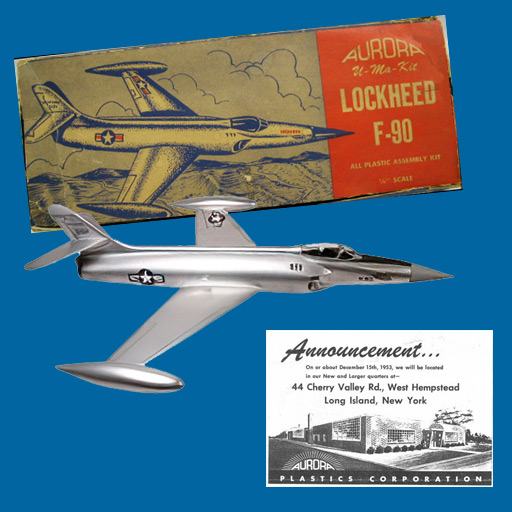 Early Days
In 1952, Aurora entered the hobby market when it began producing a line of plastic model kits.
The initial product boxes displayed the slogan: "U-Ma-Kit."
The new line competed with established model makers, Monogram and Revell. Aurora competed on price by producing smaller-scale and less detailed models than its competitors.
In 1954, Aurora relocated to West Hempstead, Long Island.
New Heights
Aurora's first model kits were 1:48 scale aircraft, including the Lockheed F90 and Grumman F9F Panther fighter jets.
In 1953, Aurora expanded on the success of those first two kits and released six additional military aircraft model kits.
In 1956, Aurora ventured into new territory with a line of figure kits depicting knights in armour.
The company acquired the license to produce the Model Motoring slot car racing system from UK's Playcraft. Aurora introduced its first HO-scale racing system in 1960.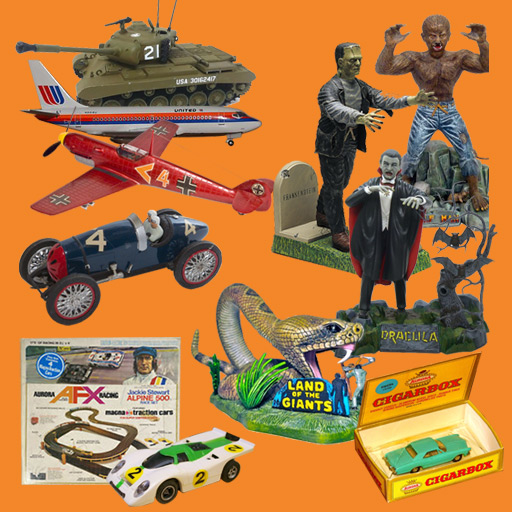 Expanding Imaginations
 Aurora added to its hobby model kits throughout the 1950s and 1960s, introducing automobile,  watercraft, tank, and passenger aircraft kits along with 1:100 and 1:200 scale kits.
The first of Aurora's 19-inch monster-themed figure kits came out in 1962 in partnership with Universal Studios. Frankenstein's monster was the first to be released, followed by Dracula, Wolf Man, The Bride of Frankenstein, Dr. Jekyll and Mr. Hyde, The Mummy, Godzilla, King Kong, and others.
Aurora sold almost 7.5 million monster kits by 1964. A glow-in-the-dark line of monster kits was introduced in 1969.
Aurora then officially licensed character figures from DC Comics, Marvel, and television series such as Batman, Star Trek, Lost in Space, Land of the Giants, The Man for U.N.C.L.E., and others.
In 1965, Aurora introduced a series of 1:32 slot car model kits.
By 1966, Aurora's Model Motoring tracks included the Figure-8, Double-8, and Table-Top systems.
In 1968, Aurora took on Matchbox by releasing the Cigarbox line of toy cars—the same year that Hot Wheels released its line of toy cars.
In the 1970s, the Aurora AFX racing system replaced the Model Motoring system.
Final Years
The original founders of Aurora retired in the late 1960s and sold the company to investors who included a former Revlon executive. They sold to Nabisco in 1971, which sold Aurora to Monogram in the late 1970s.
In the 1990s and early 2000s, several hobby companies, including Polar Lights, Moebius, Monarch, and Atlantis, reissued a selection of Aurora's model kits.
In 1999, Jerry Giammarino tried to re-establish Aurora under a new brand called LAPCO (Lost Aurora Plastics Company). Giammarino claimed to be the grandson of one of the founders. Rumours of a revival again circulated in 2007, but as of January 2022, the efforts have not yielded results.